I don't know about where you live, but Autumn is in full swing where I'm at. It's totally sweater weather, and I love it. I was frankly READY for Summer to end because I love the period between October 1 – January 1 – there is so much going on, so many parties and events. There is also a feeling of "slow down" in the air. Linger with a magazine and coffee. Sit in front of the fireplace listening to good music. Baking cookies and watching a film after. For this reason, I want to show you a Berlin "hygge" home today that feels and looks very cozy and lovely, and it belongs to Kathi Gräfe and her boyfriend Marc and their daughter Frida.
This charming apartment is 90sqm/3 rooms and is in an old building with soaring ceiling (3.50 meters!) and lovely stucco with original floors in the living room – a classic Berlin home according to Kathi. Currently, Kathi is on maternity leave but as a career, she works as a Director for a PR agency, so after a long day's work she loves to come home. Why? "It's my favorite place to be. I am always happy when I come home – it's so important to have a place you really love and where you can be yourself," she says.
At home, Kathi loves to spend time with her little girl. Before she was born, they relaxed together at home after their stressful jobs and enjoyed a good meal and a film. They also enjoyed quiet moments baking, decorating or being on the balcony. With a baby in the house, everything has changed but of course both are happy to have little Frida and they've found a new way of life together as a family of three. It may not be as quiet as it once was, but they are happy and enjoying life in a new way.
Though this space is lovely, no one has the perfect home. We all have things we'd like to change. Kathi is no exception, "We have a very long hallway and the kitchen and living room are on different ends, so you always have to walk such a distance, which can be very annoying!". I imagine that with a baby, it's even harder now, and Kathi agreed, "I would love to have a combined living and kitchen area and a spare room to store and hide things."
I had a little interview with Kathi to ask her about some of her favorite things, would you like to learn more? If so, you can find our Q+A below.
How would you describe your style?

Scandinavian clean and cozy meets design classics.
Your dream piece for the home?

It is actually the CH24 chair from Carl Hansen. It has been on my wishlist for soo long! And this dream piece just moved in and I couldn't be more in love.
Now I need a new piece for that list 😉
What is your favorite city to shop and why?

Copenhagen and New York.
Copenhagen for interior & fashion and their flea markets are the best! All these stylish people are selling so many nice things for small money. I always discover new brands and feel inspired in Copenhagen.
New York for the typical "Sex & the City" feeling and all the great American brands.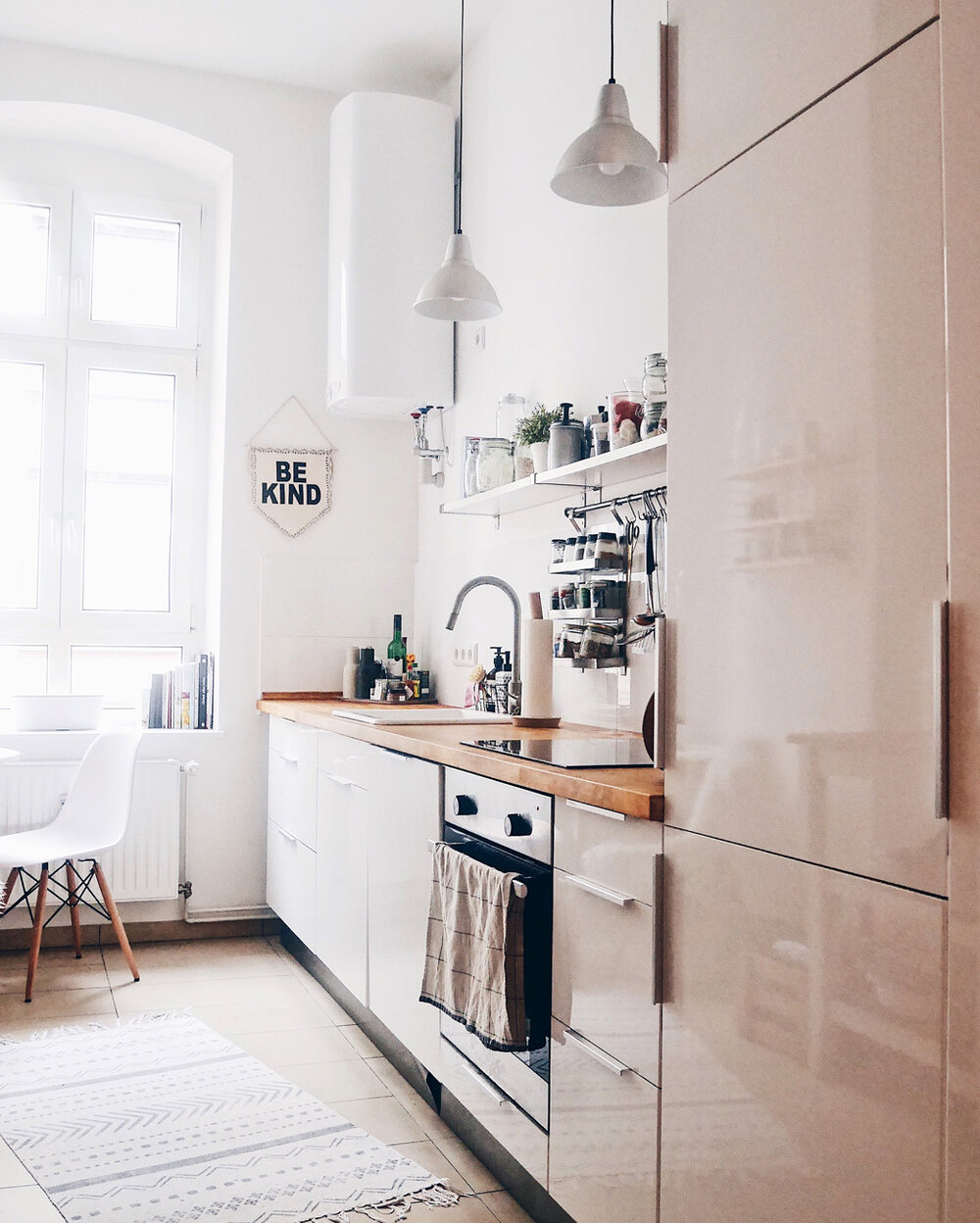 When you have people over, how do you entertain them?
It depends, sometimes we cook or get take-away for everyone as we have many nice restaurants in our neighborhood. And then it is just talking and having fun!
Favorite meal to cook and why?

I love Risotto and we often make bowls because you can combine so many good ingredients and they are so healthy. I am often inspired by "Deliciously Ella". It's the best cook book.
I also bake banana bread quite often.
Favorite flowers on the table?
Peonies and wild Tulips
What is on your playlist?
Fleetwood Mac – Dreams

Nick Drake – Pink Moon

Neil Young – Harvest Moon

The Shins – New Slang

John Mayer – New Light
How do you hope your guests feel when they visit your home?

I hope they feel home as well and that a warm atmosphere and some 'Hygge' vibes embrace them.
What is important to you when you visit someone else's home?

That is a good question, I have actually never thought about this. I think taste can be so different, so this person should feel happy about their home and then I am happy as well! For me a nice place to sit and talk is always important, this could be in the kitchen or a cozy sofa. But besides this, nothing 🙂
And finally… What are your favorite Instagram accounts right now?
@tinyhouse & @moderntinyliving – I am always so inspired be these small houses and it's amazing what they build with such limited space. I could definitely imagine to live in one of these or spend my vacation there.
@thusthefuss – Love all the colors in her home! It makes me think about using more color in our home as well. And she also just became a mom, so always nice to get some inspiration for the kids room.
@_designtales_ The interior and the photography are amazing! Also their little cottage – I would definitely move in! I also love their page @_foodstories_ – Best inspiration for cooking and baking.
Thank you so much Kathi, it's been lovely to spend time with you today.
Readers: You can follow Kathi on Instagram @kateshyggehome if you'd like. Have a wonderful weekend everyone!
Love,
Holly
(Photography: Kathi Gräfe)